CCBF is following the rhythm of nature. As March is a synonym of rebirth for many plants and animals, it is also time the China Shanghai International Children's Book Fair starts afresh and reveals the key visual of its 2021 edition.
The visual identity of a book fair is as important as the outfit one puts on for a party: it sets the mood for the event. To blow a wind of optimism over 2021, CCBF has decided to submerge you a joyful and whimsical universe overflowing with surprises. This cheerful artwork invites us into a visual search for its most incredible and surreal characters, reminding us of a world where aspirations and creativity are unconstrained.

Like every year, the CCBF key visual is conceived by one of the Golden Pinwheel Young Illustrators Competition award-winners. This year, the task settled on the Italian illustrator Francesco Giustozzi, who received a Special Mention in 2020 with his series "Let's Play".
In this new visual universe, the profusion of elements collides with the use of rich colours and sustained sense of humour. An alluring parrot sailing on a rainbow, a dung beetle wearing chic boots and a cupcake hat, a cracked egg basking in the sun… these will never fail to induce a smile on our face. In strange times like these, Giustozzi's work is just the pick-me-up we all need.
Let's dive into the background of our key visual artist of the year.
Q=CCBF; A=Francesco Giustozzi
Q: Francesco, congratulations on your Special Mention in the Golden Pinwheel competition and for being chosen as the key visual author of the next China Shanghai International Children's Book Fair. How does it feel to be the featured artist for the 2021 CCBF visual universe? What do you expect from such a project?
A: First of all, I want to thank all of you, the jury and the CCBF team for choosing me for such an important role. This means a lot to me and my work as an artist. Reaching a big audience on the other side of the world… that is simply WOW! I'm thrilled and honoured to create the new 2021 CCBF key visual, and I can't imagine what can happen after this. I really hope just good things anyway!
Q: How did you become an illustrator, and what made you want to become one?
A: Well, I attended the fine arts academy earlier in my life, but I felt a little lost towards the end of my studies because I was looking for something tangible to apply my art to. So, I enrolled in the Ars in Fabula master's programme in editorial and children illustration in Macerata, my city of birth. I really didn't know what it was, but I closed my eyes and jumped. It was the best decision of my life.
Q: Are we right in saying that the key visual you created for CCBF 2021 is quite different from your usual style? How did you come up with the main concept and develop it into such a rich visual? Is there anything fundamentally characteristic of you in this set of artworks?
A: Well, to be honest, it is not quite different from my usual style. Let's just say it is another way I have to do illustrations. To be more explicit, I like to say that there are two different souls in me. One geometrical, architectural, minimal, black and white, and another one which is the perfect opposite—colourful, cheerful, whimsical, playful and slightly psychedelic. I embrace both things, one completes the other, and I need them both.
For the 2021 CCBF KV, I decided to go with my playful side because I believe it would fit perfectly with the aim and the audience of the children's book fair. 2020 has been one of the worst years of our life, and it's not over yet. But there's hope on the horizon. That's why I made up a colourful world full of imagination and weird characters. And the best part of it was that I enjoyed it so much. My distinctive touch in this artwork? Some built-up area, buildings, houses, roofs, chimneys, thousands of windows, balconies and doors are very characteristic of my work.
Q: We love how rich, playful, and jam-packed with characters this artwork is! Can you name two of your favourite characters/elements!) and why (if that's easy to explain)?
A: Ahahah, I love this question! I agree with you on the cupcake dung beetle. I love it. I think my favourite is the black-suited guy who is resting (or maybe sleeping) in the soup together with his friend, the fish, spaghetti and vegetables! And I also like the little squared-head guy riding the queen of the worm-dragons.
Q: Which techniques do you use frequently and feel more at ease with?
A: I love combining different ways of doing illustration, but it's the digital world I feel most comfortable with at this moment of my life. Digital creation can be a lot of things, and it can become very personal. I try to find ways to make my digital art very original and emotional, and I love including elements that remind me of traditional illustration but adding a twist to it. For example, I love digital shape-collage for architectural compositions and digital hand-drawing for my characters. I also love to create light textures simulating half-tones, paper grain and airbrush shadows.
Q: We know you love fashion! Does it influence the way you do art and vice versa?
A: Yes, I love the fashion world in all its different aspects. My favourite thing about being an illustrator is creating different and new colour palettes. I get my inspiration from many areas, but fashion plays a big part in it. It makes me curious, gives me a good eye for detail, and influences my colour combinations. Fashion is everywhere, and it inspires us every day.
Q: Who/what are some of your favourite artists/visual inspirations?
A: I love to get inspired by everything in life, but what usually interests me is architecture, fashion, design, typewriting and art at 360°. I also love the 50s and 60s aesthetics—old school tattoos, silk-screen printing and vintage illustrations etc.
Some artists I follow are Alessandro Gottardo, Emiliano Ponzi, Olimpia Zagnoli, Malika Favre, Antonio Bonanno, André Da Loba, Vincent Mahé, Sébastien Tibault, Thomas Danthony, Tom Haugomat and Emmanuelle Houdart.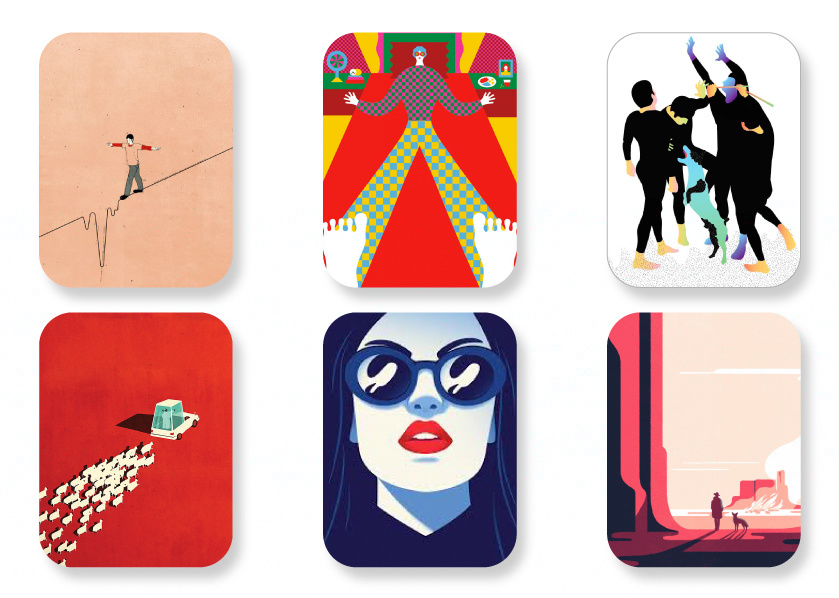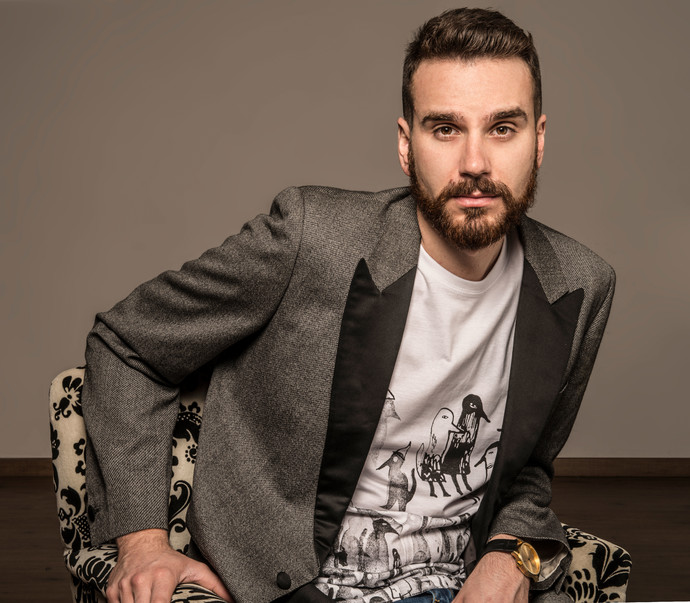 About Francesco Giustozzi
Born in Macerata (Italy) in 1986, Francesco Giustozzi is a freelance illustrator, graphic designer and picture book author. He was educated at the Academy of Fine Arts of Macerata, where he received his BA and MA degrees in graphic design. During his school years, he also cultivated a love of fashion and picture book illustration.
He has been shortlisted in numerous illustration contests, including the prestigious Bologna Illustrators Exhibition (2015, 2016, and 2020) and the Silent Book Contest. In November 2020, he won a Special Mention in the Golden Pinwheel Young Illustrator Competition.
Currently, Francesco is a freelance illustrator working with numerous domestic and international publishing houses, as well as a graphic designer for a well-known Italian toy manufacturer company. When Francesco is not drawing, he enjoys collecting peculiar objects, drinking tea, reading music magazines, buying illustrated books and watching Wes Anderson's movies.
Books by Francesco Giustozzi
La storia di Nabucco, EUM Edizioni Università di Macerata
(Macerata Opera Festival special publication), Italy, 2013
50 décors, 50 films à deviner
Éditions Milan (Milan et demi collection), France, 2015
La France qui gueule !
Éditions Milan (Milan et demi collection), France, 2015
Douce France: ces paysages qu'on aime
Éditions Milan (Milan et demi collection), France, 2016
Changeons !
Éditions La Joie de Lire, Switzerland, 2017 (published in simplified Chinese by Postwave)
How the CCBF key visual is conceived
The CCBF key visual is the visual identity used for a whole year in all the communication, online, on print and at the Fair. It is renewed yearly and designed by an artist picked among the winners of the Golden Pinwheel Young Illustrators Competition.
The creation of the CCBF key visual is the result of a collaborative process between the artist and Boiler, a visual communication agency based in Milan, Italy.
'Listen carefully to the brief, understand the needs, and use your unique style to offer the best solution' advises Marco Saccardo, Boiler's art director to illustrators hired to work on a project's visual identity. 'Show your ideas and sketches, put them on the table, and know that from that moment the collaborative process starts. You will face feedback, arrangements, revisions and challenges, but you can turn them into opportunities to create something even better'. Open-mindedness and self-awareness are key in this process. 'Those who have this mindset can be ready for the most fulfilling collaborations because they know who they are and they are not afraid to come to terms with their client's needs and will have fun doing so', added Saccardo.