Last Saturday 2 September, Zhang Mingzhou was elected new president of the International Board on Books for Young People (IBBY). The news was announced over the celebratory closing ceremony of the 36th IBBY international congress.
It is the first time that IBBY is chaired by a Chinese representative. For Zhang, this appointment is the climax of a long career dedicated to the international organization. A member of the organization for 18 years, he was consecutively executive committee member (2008-2016) as well as vice-president (2016-2018).
While his presidency will certainly cast light on China's proactive attitude towards children's literature and reading promotion. In his first speech as president, Zhang declared that "I believe reading is important to reduce inequalities and to enhance opportunities for children in an increasingly changing world. I feel obliged with a huge international responsibility over my shoulders".
He will be assisted in his mission by an executive committee integrated by 10 members from Iran, South Africa, France, Russia, Pakistan, Lebanon, Malaysia, Uruguay etc.
IBBY was established in 1953 by Jella Leppman, a German activist who strongly believed that post-world-war peace reconstruction in Europe could not be achieved without access to books for the young generations. Today the IBBY network is present in 75 countries worldwide.
As a non-profit, non-governmental organisation with official status in UNESCO and UNICEF, IBBY has a policy-making role as an advocate of children's books.
IBBY is also the organiser of the Hans Christian Andersen Award. During the congress, the 2018 Andersen winners Eiko Kadono (Japan) and Igor Oleynikov (Russia) received their awards over an official dinner attended by all the delegates. Both Kadono and Oleynikov will be present at the next edition of CCBF.
"East meets West around children's books and fairy tales" was the main theme of the three-day congress hosted in Athens, UNESCO World Book Capital for 2018.
In total more than 125 presentations and key note speeches were held —a significant number of them focusing on access to reading in times of crisis, cultural diversity and translation.
Among the other important announcements made at the Congress was the election Junko Yokota as the new Hans Christian Andersen award jury president. Ms Yokota served as HCAA jury when Cao Wenxuan received this high distinction in 2016. She was also a Chen Bochui jury member for two terms in 2016 and 2017.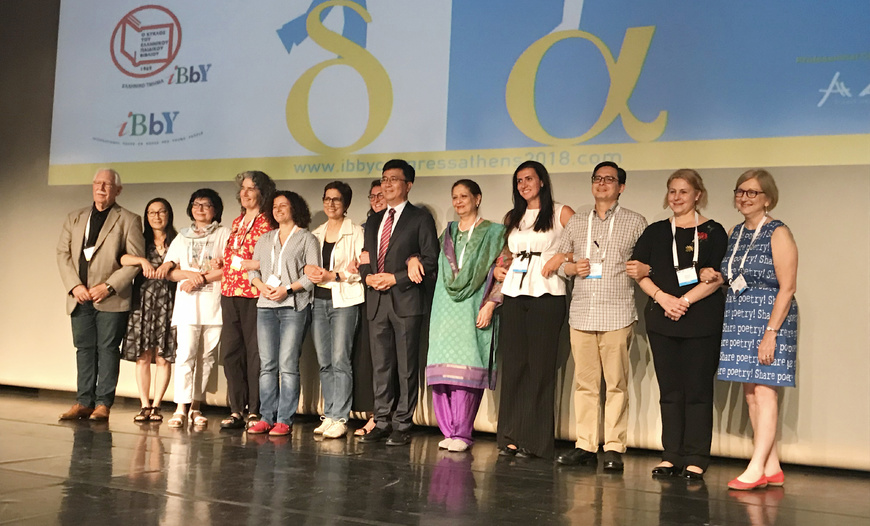 As a premium platform for children's literature and reading promotion in Asia, CCBF has been working closer to IBBY recent years. This fruitful cooperation—which included –a special exhibition on books on disabilities, promotion of the Chen Bochui awards etc.— was highlighted by the past IBBY president Wally de Doncker in his final address in Athens. CCBF will continue supporting IBBY through different channels. IBBY President Zhang Mingzhou and Executive Committee Director Liz Page will both be present at the fair in November 2018.