The 6th China Shanghai International Children's Book Fair (CCBF) was successfully ended on November 11th 2018. For the first time co-organised by BolognaFiere, the most important fair entirely dedicated to books and other content for children in the Asia Pacific region w-as a great success. During the past week, most of positive quotes from different aspects came to show us what CCBF was from their persp-ectives.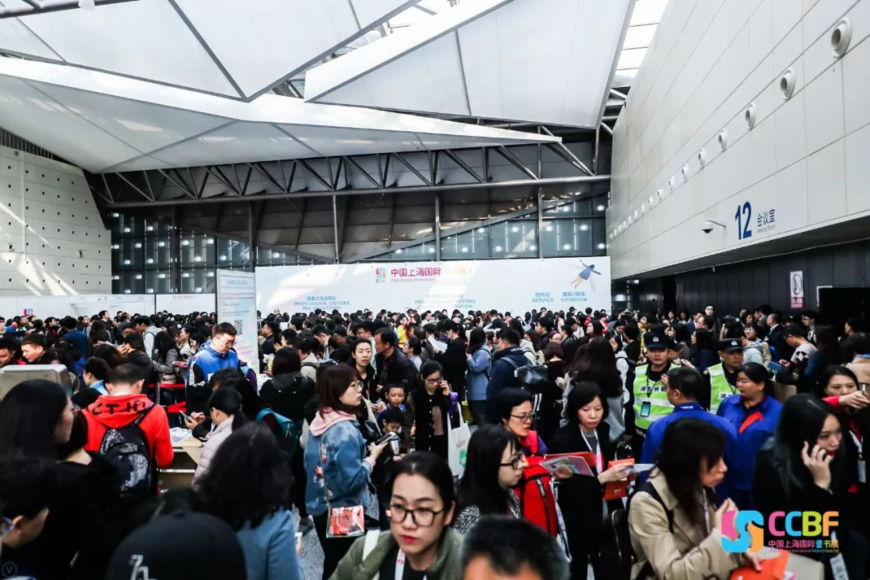 When it comes to describing the CCBF, I think it is most appropriate to say that it is both timely and up-to-date. It has become the core competence of CCBF to adhere to professionalism, internationalism, and quality. A great book fair needs great books, great communities, great masters, great awards, and great audiences. In this sense, CCBF has grown from a small start to a large platform, rising to be a truly great children's book fair in the East.
Kan Ninghui, Vice President, Shanghai Century Publishing (Group) Co., Ltd.
Thanks to CCBF for the invitation. I sincerely hope that CCBF will become an even better platform in the future to promote the children's book copyright trade and cultural communication, leading China's original children's books to enter the centre of the world stage.
Sun Zhu, Party Secretary and President, China Children's Press & Publication Group
From the early contact to the final cooperation, CCBF has impressed us with their professional and thoughtful services. At various stages of the book fair, the organiser always sent us reminders and followed up. Their one-on-one consultancy was extremely helpful. As well, they provided us with the excellent support of publicity. We had a great number of visitors during the three-day book fair, as our 19 events were fully booked. We couldn't have achieved this without the organiser's careful operation.
Ding Hui, Business Development Director, Beijing Dangdang Information Technology Co., Ltd.
On our first visit to China Shanghai International Children's Book Fair (CCBF) in 2015 we said we thought the fair could have the potential to become the 'Bologna' of the Far East so it is great to see that it has come to fruition with the collaboration of the BolognaFiere this year. We have been very impressed by the many panels discussing illustration, picture book making and international collaboration in children's publishing which help to promote cultural understanding and exchange.
Caroline Muir, Group International Sales Director, Walker Books Group (UK Pavilion)
Thanks to the Bologna Fiere for an amazing experience at CCBF. It is our first time here at the fair promoting our Muzicbug picture story books and we have been delighted with the organisation of the fair. The attendance has been fabulous and we have had an overwhelming response to our books. We have been able to open up contacts here in China beyond what we had hoped. Thanks to all of those who participated in the organisation of this event and to all of the booth holders who attended.
Leighton Smith, RIMLEGS Publishing Melbourne, Australia
Thank you so much from all of us at the Australia Council collective stand. CCBF has been a big step forward for us in underst-and the market for children's books and building relationships with Chinese publishers. Meeting Chinese Editors has been crucial in growing our understanding of the needs of the Chinese children's book market.
Rosemary Hinde, Australia Council collective stand
China Shanghai International Children's Book Fair (CCBF) gives us an opportunity to show our best editions for children on the main book event for children's literature in the eastern hemisphere. This children's book fair is extremely important for us as the Russian and Asian book markets have a lot mutual interests. The interest towards Russian fiction and non-fiction books is huge, there are a lot of proposals from the publishing houses from Asian Region to translate and publish Russian books. CCBF is a place for a professional dialogue between representatives of different international institutions focused on children's reading and publishing children's books as well as a very important place for meetings, portfolio-shows and workshops of illustr-ators from all over the world.
Maria Vedenyapina, Director, Russian State Children's Library (Russia Pavilion)
We found our first time in China very fruitful. We had about 20 scheduled meetings a day plus lots of unplanned ones on site. We are now in the process to finalize some rights deals in particular we had many requests for one of our titles that report a huge success. We appreciated that Chinese publishers who have come to visit us had already a clear idea of our portfolio. Attending CCBF allowed us to work straight with several Chinese publishers.
Florent Grandin, Editions du Père Fouettard (BIEF France collective stand)
The Spanish Publishers at the Spanish Pavilion have been very busy during the Fair and have had an average of ten meetings per day. They experienced a very lively Market. Chinese Publishers are craving for new titles and attending the Fair has surely been a great opportunity to display our works.
Cristina Abelenda Santa-Cruz, Publishing Sector Manager, ICEX Espana Exportación e Inversiones (Spain Pavilion)
We have a long lasting relation with CCBF and we are planning to attend next year again! As a Rights Agency, CCBF represents for us a crucial appointment to present our new titles to the Chinese professional audience and to be updated on China Children's books landscape. We had a very full scheduled agenda this year and we also included some extra meetings with new potential partners interested in buying our rights. We also enjoyed networking events such as the Exhibitor Welcome Dinner.
Akira Uchida, Tohan Corporation (Japan)
This is the first time that the Hong Kong China Pavilion participated in CCBF. We had so many visitors every day. Readers in Shanghai are very fond of books from Hong Kong and participated in our cultural events actively. Thanks to CCBF's support and assistance, the Hong Kong China Pavilion has received the attention and recognition of all parties successfully.
Yin Huiling, President, Hong Kong Pavilion
Thanks to this partnership with the Bologna Fair, we had this great chance to meet with our publishers and readers in China, see new faces as well as familiar faces. We have more than 25 books published in China, so it's good to stay in touch with those who enjoy our books.
Mariana Vale, Planeta Tangerina (Portugal, BOP Lounge)
China Shanghai International Children's Book Fair (CCBF) represents a bridge connecting with the Asia Children's Publishing ecosystem. Attending the event gave us the opportunity to meet with a large audience that we would not have found somewhere else and to explore the growing China market and its future trends from the inside. We had the opportunity to do scouting and we had fruitful meetings with some interesting publishers, that allows us to better understand wich titles in our portfolio are most appreciated here. We expecially enjoyed the friendly atmosphere and the creative vibe you can experience in CCBF.
Manuela Galassi, Editor, Albe Edizioni (Italy, Strega Prize Lounge)
This is the third time that I participated in CCBF. I feel that this year the organisation is more professional than before. There has also been more professional and better participation from international organisations. Moreover, there are many excellent activities, including new book releases and the Prize for Picture Books. This prize is to promote the development of Chinese original picture books, and it indicates a bright future of Chinese picture books as we have launched it during the book fair.
Zhang Mingzhou, President, International Board on Books for Young People (IBBY)
The organisers have done a fantastic job in terms of taking care of international guests with great attention to detail. This is my first visit to China. The Golden Pinwheel Young Illustrators Competition is very meaningful. The Illustrators Survival Corner is also an excellent programme. I can tell that the illustrators are well prepared and eager to learn new knowledge. I would like to thank Chinese readers for their enthusiasm for "No, David!" and my new book. Their passion is beyond my imagination.
David Shannon (USA), Children's Book Author and Illustrator
The Chen Bochui International Children's Literature Award has been held for five editions. Its influence has been growing internationally. CCBF has created an international response to Bologna Children's Book Fair (BCBF). It also happens to catch up with the first China International Import Expo, which fosters an economic and cultural impact. This year, CCBF has given everyone a surprise from the perspective of art and literature!
Gao Hongbo, Chairman of the Jury, Chen Bochui International Children's Literature Award
This year, CCBF is a real industry gathering. Everybody was here; everybody met up. Each event, panel and seminar were well organised with interesting topics and format. There have been many pertinent and practical advice for the development of illustration, picture books or stories in the future. I believe that these advice will inspire young people. I was very moved by the response from illustrators in the audience. We are like-minded people. It means that the organiser really put their thoughts into it.
Xiong Liang, Ink Painter and Writer, Jury Member of the Golden Pinwheel Young Illustrators Competition
The SHVIP fellowship program has given me a much deeper - and much needed - insight into the Chinese Children's book world. Our Chinese publishing colleagues have generously shared their experiences of the growing book market and I am sure this visit will generate future cooperation on many levels!
Erik Titusson, Director, Lilla Piratförlaget (Sweden, SHVIP)
Thanks to SHVIP fellowship program, I could visit 5 Chinese publishers, 3 book stores. It was a great experience to know the visions of Chinese publishers and to talk with editors from all over the world. We shared ideas and positive perspectives for making children's books. I sincerely appreciate that I was given the chance to be a member of SHVIP.
Miyuki Yamakita, Fukuinkan (Japan, SHVIP)
CBBF is one of my favourite international book fairs because it gives visitors a comprehensive insight into the Chinese market as well as the opportunity to meet publishers from all over the world. The professional programme is expertly curated and is invaluable for book industry professionals who want to understand and do business with their counterparts in China.
Charlotte Eyre, Children's Editor, BookSeller (UK)
Well done on your first outing as the co-organizer of China Shanghai International Children's Book Fair (CCBF). The shuttle service from the "official hotel" to the exhibition hall, I must say, is a brilliant touch; so too is having the reception table at the hotel lobby. These little things add up, and mean a lot to travel-weary exhibitors and attendees. It is great to see successful features of the Bologna Children's Book Fair being introduced to CCBF to make it an even better regional event. Here's to the next CCBF, and the next, and the next…
Teri Tan, International Correspondent, Publishers Weekly (USA)
CCBF has been more and more professional and French publishers are very pleased to meet their Chinese partners. The number of professional visitors and the large audience at the professional meetings show how much the like the CCFB and its program. Beside, the partnership with BolognaFiere as been very much appreciated, specially the exhibition of the illustrators, the exhibition of all the awards, the illustrators survival corner and the copyright great wall.
Claude Combet, Journalist, Livreshebdo (France)
A nearly 20 000 square metre exhibiting hall. 367 exhibitors from 25 countries and regions, including 194 internaional exhibitors as well as 11 country or regional pavilions.
Over the 3-days, 33,796 visitors from 48 countries and regions.
237 professional and public events attracted thousands of publishers, editors, illustrators and book lovers to participate. A programme of 12 international conferences and seminars was very carefully designed. The topics included international trends, audio books, digital trend, book design, IP licensing, book distribution and marketing.
- Who Sells? How To Sell?—Distribution and Marketing in a Changing Children's Publishing Ecosystem
- Observers of the Publishing Industry—Trade Media Take a Look at the Children's Book Market
- 40 Years of Economic Reforms in China—Past, Present and Future of the Chinese Children's Book Publishing
- East Meets West—Picture Books Today Across Cultures
- What Makes a Classic Picture-Book Character?
- Balancing Digital—Augmented Publishing, Apps and Children's Books
- "The Never Ending Story"—International Trends in Children's Literature
- Children's Publication and Licensing Forum
- "The Content and the Container"—Picture Books as Design Objects
- 2018 Hans Christian Andersen Award Winners in Conversation
- Listen Up!—Audiobooks and Paid Audio Content: Global Presence and Future Trends
- Who Takes the Prize?—A Closer Look at Children's Book Awards
Illustrators Survival Corner was the most welcomed programme by China young editors, designers and illunstrators. It provides a symposium for them in the shape of master classes, creative workshops, and one-on-one portfolio reviews.
The winners list of Golden Pinwheel Young Illustrators Competition has released in the opening day of CCBF. After the final selecting by the jury, Heimi (China) has won the Golden Pinwheel Grand Award (China) and Elina Ellis (United Kingdom) has won the Golden Pinwheel Grand Award (International). Catarina Sobral (Portugal), Raquel Bonita ( Spain), and Miao Yu (China) have won the Golden Pinwheel Illustration Special Mentions. Monika Vaicenaviciene (Lithuania) has won Publisher's Choice Award (selected by Beijing Dandelion Children's Book House Co., Ltd.,). Han Xu (China) has won People's Choice Award.
In the Chen Bochui International Children's Literature Award (CICLA) Ceremony, Special Contributor of the Year went to Zhang Mingzhou (China) - President of International Board on Books for Young People (IBBY)). Best Author of the Year went to Hervé Tullet (France) - Children's Book Author, Artist and Performer. 15 published children's works have won three award categories.
In the evening of 8th November, SHVIP Book Pitch Party and a cocktail were held at The Light Space-Xinhua Book Store with more than 80 publishers and guests.
On the stages in the Public Zone, the Authors' Festival as well as our exhibitors invited famous writers and illustrators from home and abroad to hold a series of activities including seminars, book clubs, and book signings to interactive with the public audiences.
Following the great results achieved by this year, CCBF is already working on a brand new edition, aiming to reconfirm its key role as the Asiatic benchmark in the children's contents international industry. Let's see you in November 2019!