CCBF: First of all, we want to know more about you. How did you get into the field of illustration and became one of the most valued illustrators in China in the past year?
Gui Tuzi: Hello everyone, my name is Gui Tuzi and I'm glad to share with you my experience. I graduated in 2006 and started my professional path in animation, as both a teacher and designer. In parallel I began to make picture books, although I was just dabbling in it and the books were mere experiments connected to animation. But thanks to this experience experience, I learned how to manage scriptwriting, storyboarding, character building, scene settings etc. Also, I gained a positive understanding of my creative ability. I quit my job and started receiving commissions to illustrate magazine covers and bridge books. And that's how everything started. In about ten years, I have produced a considerable number of illustrations and picture books for children. I feel strong of experience, and I am constantly looking for new challenge, pushing myself beyond the limits of my consciousness.
CCBF: What is the story behind The Big Boat, your winning artworks in the Golden Pinwheel Competition? Where did this inspiration come from?
Gui Tuzi: Early last year, I received a commission from the CITIC Publishing House. The story talked about the development and changes in post-reform China, and the big boat was an allegory of those transformations. Initially, it didn't sound like an interesting topic to me, but as I read the story, the picture just kept flowing into my mind. I felt that my creative experience could help me illustrate wonderful pictures for this story. So I accepted to make the book. I used two contrasting objects—an imposing dark iron boat and awhite fishing net—as linking elements throughout the pages of the book.
In addition, in The Big Boat,, there is a picture of children with different face expressions squeezed in the crack of the door. Actually, my daughter was the inspiration for these expressions.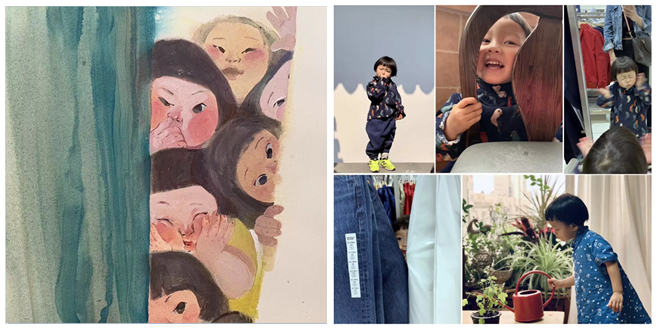 CCBF: In the Golden Pinwheel competition final evaluation last year, The Big Boat was unanimously approved by all five jury members. They agreed that this work was excellent in composition, details and storytelling. Do you have any suggestions for the participants of the next edition of the competition in 2020?
Gui Tuzi: Art techniques are just tools, only sincerity can move people.
CCBF: We know that you are also engaged in art teaching and offer training coursesin illustration. For children who are just starting learning with you, what do you think is the most important?
Gui Tuzi: The first thing is to build their professional awareness. It is necessary that they fully understand that illustration is an extension of a text. Also, the design aspect shouldn't be overlooked. During the basic training, I carefully observe the characteristics of each student's visual language and aesthetic tendency. I try to guide them in a goal-oriented manner and adapt my teaching to each student's learning requirements. I hope that through my courses, young learners can get a grasp of what professional illustration means, and hopefully at the same time, I can help them find long-term development options.
CCBF: Besides being an illustrator, you are also a mother of two. How do you think drawing can contribute to your children's growth and education?
Gui Tuzi: Drawing has taught me a lot, and in my daily contacts with children, I try to be empirical, and give them as many chances as possible to experiment, taste and test things on their own. I try to train them to the pursuit of beauty, I teach them to develop their visual understanding of the world...In the very end, the most precious feelingis the happiness coming out ofan empty piece of white paper being filled with ideas—a feeling that belongs only to the creator.
CCBF: We know that The Big Boat was successfully published in 2019 and was quickly reprinted. What are your next publishing projects?
Gui Tuzi: I will continue making picture books, this is my main creative interest for the next few years. My newest book project is a picture book titled The Story of Matouqin in collaboration with Bao'erji Yuanye, which will be published by China Children Press and Publishing Group in the first half of 2020.
CCBF: Recently, China has been fighting against the coronavirus, and we have heard and seen many touching stories. Some people have shown a lot of courage and face dangers to protect others. What do you want to say to them? Will you create works on this stories in the future?
Gui Tuzi: Since the outbreak, I have been staying at home all day long, spending time with my family and working a lot at the same time. Every time I have had a moment to relax and think, a voice in my head reminds me of these many brave people who risked their lives to protect us ordinary people. I feel very grateful and want to say to them: "Thank you, please return home safely!"
Everything will eventually get better, and I might feel like drawing more about this episode, but I am usually more inclined to dig deep into the wonders of humanity, rather than just depicting events on the surface.

Thanks again to Gui Tuzi for answering our questions. We look forward to discovering more art by this bright and promising illustrator.